This year's slate of NBA Christmas Day games features a blend of the league's most prestigious stars and 10 organizations at the dawn of an unpredictable season. We've got Zion Williamson vs. Bam Adebayo, Stephen Curry vs. Giannis Antetokounmpo, Jayson Tatum vs. Kevin Durant, Luka Doncic vs. LeBron James and the LA Clippers vs. their ghost of bubble past.
Let's dive in and look at the most intriguing storylines in each game, starting at noon ET on ESPN with two jaw-dropping big men.
MORE: The full list of NBA-approved restaurants for team dining
---
The best young bigs in the league
Andrew Lopez breaks down how the Pelicans plan to fight for a playoff spot and continue to develop young star Zion Williamson this season.
These teams hope to contend for titles throughout this new decade, and both come equipped with exciting playmaking bigs who have the potential to define the future of NBA frontcourt play. Bam Adebayo (23) and Zion Williamson (20) are the big men of the future. And they dominate in unique ways.
At this stage, Adebayo is a more complete player for one main reason — defense, which is Williamson's biggest flaw coming into his second season.
Just ask Jayson Tatum, who had a potentially career-defining slam dunk rejected by Adebayo in one of the bubble's most memorable moments. Adebayo's combination of size, speed and savvy makes him arguably the prototypical defensive big for the current era. While Jimmy Butler is clearly the heart and soul of this gritty Heat squad, Adebayo is its backbone.
But Adebayo can't compete with Williamson's natural scoring ability. The young southpaw has a terrific feel for the game and a knack for finding ways to propel his strong frame to the rim. Williamson scored 22.5 points per game last season, converting over 58% of his shots.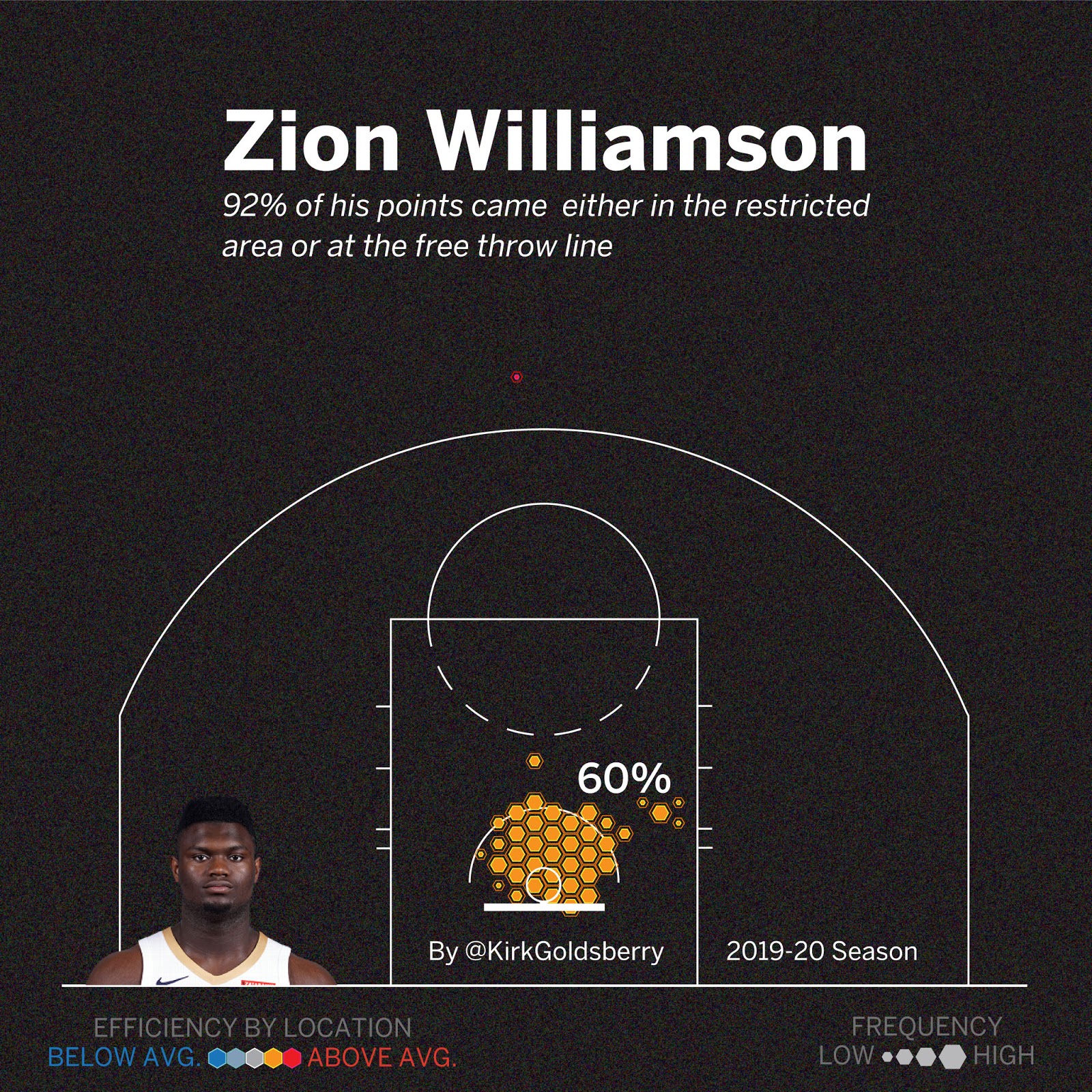 Even the best rookies often suffer from inefficiency as scorers, but Williamson arrived in the league with an elite feel around the bucket. If teams keep him away from the hoop, they can stop him. Easier said than done, but that's exactly what Adebayo & Co. will attempt to do in this game.
---
The MVP battle
Stephen Curry and Draymond Green look to carry the Warriors back to the playoffs as Klay Thompson will miss another season due to injury.
Game 2 includes a matchup of two guys who have hogged four of the NBA's past six MVP trophies.
Giannis Antetokounmpo has become the NBA's most dominant interior force, leading the league in points in the paint and defensive rebounding last season, while Stephen Curry has literally changed the sport with his perimeter excellence.
Curry suddenly looks mortal, though. Most of his key running mates from the Dubs' dynastic run of the 2010s are either gone or banged up, and this year's model looked awful in its debut against Brooklyn. The Warriors used to decorate the court with versatile threats at every position, but on Tuesday the ball kept finding lackluster playmakers incapable of doing much of anything. That left Curry on an island. He can do a lot, but he can't do it all by himself.
If Game 1 is a sign of things to come and defenses can devote a huge amount of resources to stopping Curry, the only splash this squad will make this season will once again involve pingpong balls.
The NBA is a cruel league. Injuries are a fact of life, and success is fleeting. The Warriors are just the most recent proof that every dynasty fades. With their MVP locked up for years to come, the Bucks are dreaming of dominating the 2020s just like the Dubs dominated the 2010s. A big win over Curry in this game would be a poetic step on that journey.
For all the attention given to the Bucks' recent playoff failures, they can look at the story of Curry and Golden State for some encouragement. Curry didn't even reach the Finals until he was 27. Giannis just turned 26 a few weeks ago.
Stocking stuffer stat: If there's a red flag in Antetokounmpo's game, it's at the line. The huge free throw he missed vs. Boston on Wednesday was not unexpected. Since the start of the 2018-19 season, Giannis has missed 25 clutch free throws — the most in the NBA. Clutch time is defined as the final five minutes with the score within five points. Of the 20 most active clutch free throw shooters in that time frame, he ranked last, converting 64% of those important freebies.
---
Oh wow, the Nets
Malika Andrews chronicles the litany of changes the Nets have undergone in recent years, from roster changes to coaching changes, and gives insight into how they plan to bring an NBA title to Brooklyn.
Welp, the Nets quickly erased a bunch of questions in their debut. Both Kevin Durant and Kyrie Irving outscored Curry, and they looked awesome doing so, combining for 48 points on 32 shots. Steve Nash's new coaching staff was nothing but masked smiles as the Nets dominated on both ends.
With Mike D'Antoni, Nash, Durant and Irving all involved, these guys could easily become the best offense in the league. While the team's big names get all the headlines, its rotation was also encouraging. GM Sean Marks has built one of the deepest teams in the NBA. Players such as Jarrett Allen and Caris LeVert would start on most squads, but they lead a bench unit that will propel this team to wins even when the superstars aren't firing on all cylinders. LeVert added 20 points in 25 big minutes Tuesday, demonstrating that this team is more than a pair of superstars with fancy coaches.
LeVert and Allen are the exact kinds of bench players Boston lacks. There's no doubt that the Celtics have a pair of phenoms on the wings, a dangerous point guard and a good coach, but there are real question marks deeper in their rotation. Gordon Hayward is gone. The frontcourt still looks thin. And in the context of a now-brutal Eastern Conference teeming with great coaches and superstars, it's unclear whether this team is still a legitimate contender.
If Jayson Tatum and Jaylen Brown continue to score like they did in their impressive win over Milwaukee on Wednesday, that would be a huge lift. But even these rising stars need more help than they currently have.
---
LeBron v. Luka
Luka Doncic has proved himself to be an elite player in just his first two seasons, and now he looks to continue his trajectory as an all-time great in Year 3.
What's it like to be the most hyped phenom in basketball? This game features two guys who know the answer.
Folks, the Luka Doncic hype isn't unjustified. He could be an undergrad at age 21, but instead he led a Mavs offense that literally was the most efficient scoring machine in league history last season. That was before he melted our faces with one of the most impressive playoff debuts in recent memory.
Now, Doncic is tasked with building upon that foundation and proving to the basketball world that he's ready to take the next step. That means improving his defense and getting out of the first round of the playoffs.
At 35, LeBron James is squarely in the professor phase of his career. Don't let that gray in his beard fool you — he's not emeritus just yet. He enters this season as both the reigning Finals MVP and the league's oldest starter, which is incredible. In Year 18, he's still playing awesome basketball and has a legitimate chance to win more titles and become the leading scorer in NBA history.
If Doncic could learn one thing from Professor James, it's the tried-and-true lesson that defense wins championships. The purple and gold had the best defense in the West last season, while Dallas ranked ninth. James has no shortage of offensive highlights on his CV, but those chase-down blocks in big moments will always help define his legacy.
Stocking stuffer stat: This will be LeBron's 14th straight season playing on Christmas, tying Kobe Bryant for the longest streak. James has 361 career points on Christmas, third most all time. He trails Bryant (395) and Oscar Robertson (377).
---
Revenge!
Ramona Shelburne recaps the devastating breakdown the Clippers suffered in the bubble in the 2020 playoffs and lays out what challenges await the team in the upcoming season.
This tasty rematch features two teams that hope to unseat the Lakers atop the West. Last year's epic seven-game series left a bad taste in the mouth of Paul George and the Clippers, who fell apart when it mattered most in the bubble.
But the short offseason provided the Clippers with a chance for a fresh start. Game 1 indicated they are ready for a redo. George looked great on both ends as the Clips spoiled ring night for the Lakers. At this point, Kawhi Leonard has become a reliable playoff force, but the success of this duo will depend largely on George's postseason performances.
The Nuggets, on the other hand, come into this year with confidence. They know they belong, they are young and they are ascendant. The roster boasts arguably the best young core in the entire league. Nikola Jokic is 25, Jamal Murray is 23 and Michael Porter Jr. is 22. Not only are these fellas young but they fit together perfectly on offense. Jokic is arguably the best big in the league right now; Murray is one of its best young guards; and Porter is a burgeoning beast on the wing.
The incredible Jokic-Murray interplay has gone from the darling of League Pass hipsters to a main attraction on Christmas for a reason. These guys are emerging as the Stockton-Malone of the 2020s, and in case you think that's an exaggeration, consider this wild stat from last year's playoffs:
Top passer-to-shooter duos | 2020 playoffs
1. Nikola Jokic to Jamal Murray: 185 points
2. Jamal Murray to Nikola Jokic: 166 points
3. LeBron James to Anthony Davis: 147 points
via Second Spectrum
Jokic is a savant. Murray is breathtaking. These two are dominating defenses like no other duo in the league, and neither has even reached his prime yet.
Stocking stuffer stat: On Tuesday, George became the first player to score 30 or more points while shooting 70% or better from the field in a season opener since Blake Griffin also did it for the Clippers in 2015.


#exciting #NBA #Christmas #game

Source